Luxury Portable Toilets and Showers
Serving the Reno, Henderson, and Las Vegas areas
The Lavatory is your go-to destination for luxury portable restrooms and shower trailers in the Las Vegas, Henderson, and Reno areas. We offer a range of options to suit the needs of any event, including special events, fundraisers, weddings, festivals, and more. Our portable bathroom trailers are equipped with all the amenities you would expect from home, including air conditioning/heating, porcelain flushing toilets, and stainless steel sinks, to ensure that your guests feel comfortable, clean, and safe. We understand the value in proper public sanitation measures, and our premier solutions deliver these needs anywhere, any time. When nature calls, you can rely on The Lavatory to answer with our carefully crafted portable toilets and showers. Each have been designed to meet all modern needs, including ADA compliance standards.
We also offer long-term solutions for situations where permanent facilities may not be practical, such as school sites, warehouses, emergency response, disaster relief, and more. We have a variety of luxury portable restroom sizes and configurations available to meet the needs of any gathering, and we also have ADA-compliant options. Our bathroom trailers are well-maintained and regularly cleaned with the help of an on-site restroom attendant and high cleaning standards in between reservations. You can do away with unsightly porta potties and find relief in our selection of luxury rentals.
At The Lavatory, we deliver, set up, and maintain our portable bathroom trailers to ensure they are clean and ready for use. Our team works closely with you to meet guest attendance demands, appropriate rental accommodations, and affordability. Contact us today to request a quote and reserve your luxury portable bathroom or shower trailer rental for your next event in the Las Vegas, Henderson or Reno areas. We look forward to serving you and making sure your guests have a comfortable, clean, and convenient experience.
The Lavatory Luxury Trailers
Luxury Portable Restrooms
THE LAVATORY
Luxury Restroom Trailers
We offer 2, 5, and 9 station portable luxury restroom trailers:
Equipped with AC/Heating
White China Toilets with Foot Flush
Stainless Steel Sinks
Interior & Exterior LED Lighting
Smart Touch Digital Thermostat
Private Shower Trailers
We offer 2 and 8 station portable private shower trailers:
Private Bathroom/Shower Stalls
Equipped with AC/Heating
White China Toilets with Foot Flush
Interior & Exterior LED Lighting
Hot/Cold Water Controls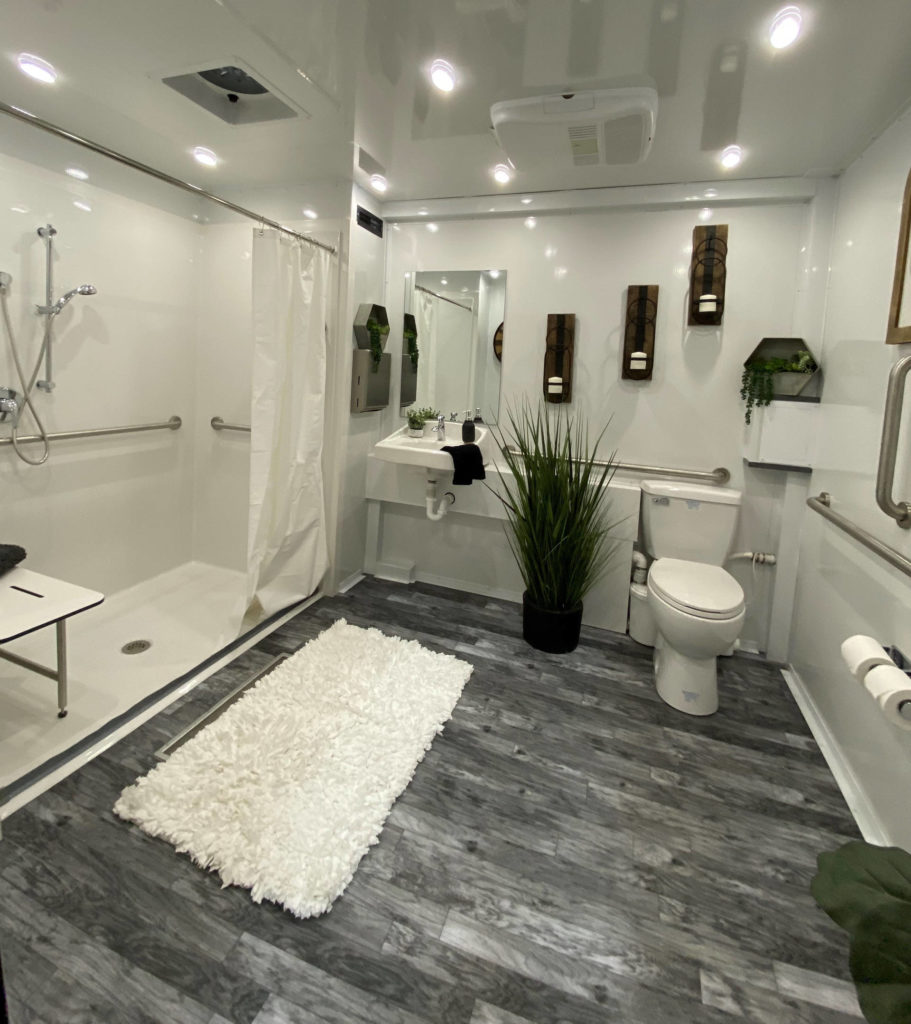 ADA Restroom & Shower Trailers
We offer many restroom and shower options for California ADA Accessibility trailer needs:
Designed to be lowered with ramps for ADA Accessibility
ADA China Toilets with Handle Bars
ADA Shower with Seat & Wand
ADA Sink