Luxury Portable Toilets and Showers
Serving the Denver, Colorado Springs, Grand Junction, and Boulder areas
The Lavatory is your go-to destination for luxury portable restrooms and shower trailers in the Denver, Colorado Springs, Grand Junction, and Boulder areas. Whether you're hosting a special event, fundraiser, wedding, festival, or any other gathering, we have a range of options to suit your needs.
Our portable bathroom trailers are designed to provide ultimate comfort and convenience. With amenities like air conditioning/heating, porcelain flushing toilets, and stainless steel sinks, we ensure that your guests feel at home and have a clean and comfortable experience. We prioritize proper public sanitation measures and adhere to high cleaning standards to guarantee a safe and hygienic environment. Our premier solutions meet ADA compliance standards, ensuring accessibility for all.
In addition to serving events, we specialize in providing long-term and temporary rental solutions for various sites where permanent facilities may not be practical. Whether it's a school undergoing renovations, a store remodel, a construction site, or an emergency response area, we understand the unique requirements of these locations.
For schools, we offer customized solutions to ensure the comfort and convenience of students, staff, and visitors during construction or renovations. Our luxury portable restrooms can be tailored to fit the needs of different age groups, and we provide ADA-compliant options to accommodate everyone. We work closely with educational institutions to determine the appropriate number of rentals based on the student population and create a restroom plan that minimizes disruptions to daily activities.
For store remodels or other temporary sites, we provide flexible rental options to meet your specific needs. Whether you require a single luxury portable restroom or multiple trailers for larger projects, we can accommodate your requirements. Our well-maintained and regularly cleaned bathroom trailers offer a superior alternative to unsightly porta potties, providing a comfortable and sanitary restroom experience for workers and customers alike.
At The Lavatory, we handle everything from delivery to setup and maintenance, ensuring that your long-term or temporary rental site has reliable and convenient restroom facilities. Our team works closely with you to determine the appropriate rental accommodations based on the duration of the project, anticipated usage, and specific site requirements. We offer competitive pricing options to fit within your budget.
Contact The Lavatory today to request a quote and reserve your luxury portable restroom or shower trailer rental for your long-term or temporary site in the Denver, Grand Junction, Colorado Springs, or Boulder areas. We are dedicated to providing exceptional service and ensuring that your guests, workers, or students have a comfortable, clean, and convenient restroom experience, no matter the location or duration.
The Lavatory Luxury Trailers
Luxury Portable Restrooms
THE LAVATORY
Luxury Restroom Trailers
We offer 2, 5, and 9 station portable luxury restroom trailers:
Equipped with AC/Heating
White China Toilets with Foot Flush
Stainless Steel Sinks
Interior & Exterior LED Lighting
Smart Touch Digital Thermostat
Private Shower Trailers
We offer 2 and 8 station portable private shower trailers:
Private Bathroom/Shower Stalls
Equipped with AC/Heating
White China Toilets with Foot Flush
Interior & Exterior LED Lighting
Hot/Cold Water Controls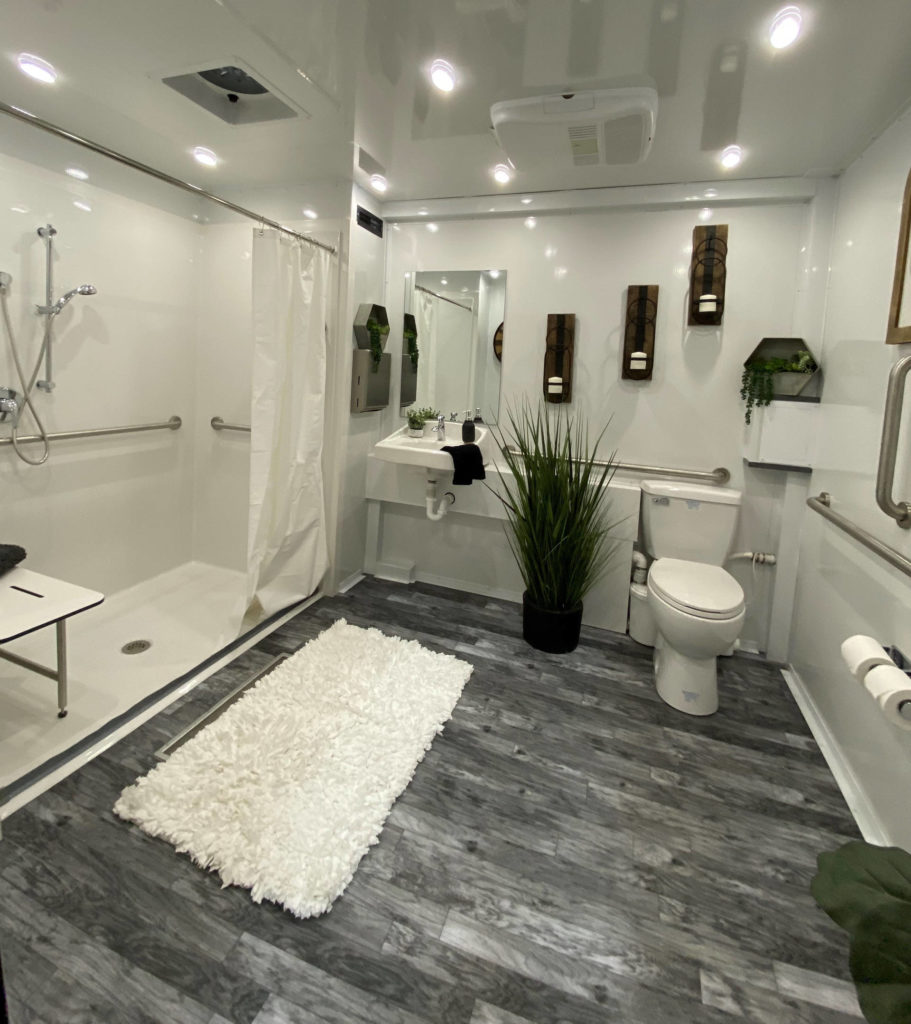 ADA Restroom & Shower Trailers
We offer many restroom and shower options for California ADA Accessibility trailer needs:
Designed to be lowered with ramps for ADA Accessibility
ADA China Toilets with Handle Bars
ADA Shower with Seat & Wand
ADA Sink