Luxury Restroom Trailers
Serving the Honolulu, North Shore, and Oahu areas
We understand that when you're planning an event or gathering where you expect a large number of guests, it's important to have the right amenities. This is especially true when it comes to restroom facilities. Fortunately, luxury portable restroom rentals can help provide a comfortable and convenient solution. At The Lavatory, we offer luxury restroom trailers that are perfect for any occasion, from weddings and corporate events to festivals and concerts, and so much more. Our portable bathroom trailers come in a variety of sizes and configurations to suit your needs, from single-stall units with modern flushing toilets to larger models that can accommodate up to 10 guests at once. Each trailer is equipped with air conditioning and heating, as well as luxury finishes including granite countertops and chrome fixtures. We also offer portable shower trailers in Hawaii for events where guests may need to rinse off after a long day of activities. Our shower trailers come with energy-efficient water heaters, multiple stalls, and ample accommodations for shower accessories. The spacious interior also provides plenty of room for changing. In addition to our temporary rentals, we also offer long-term options for situations where permanent facilities may not be practical, such as school sites, warehouses, emergency response, managed homeless encampments, and more. Our trailers are stationed in Hawaii and ready to meet your rental needs. For all of your portable bathroom and shower needs in Honolulu and throughout the islands, choose The Lavatory.
At The Lavatory, we understand that your event is important to you, which is why we do everything we can to ensure it goes off without a hitch. Our experienced professionals will deliver, set up, and provide ongoing maintenance of your luxury portable restroom rentals in Hawaii. Need on-site assistance? Don't worry. Our luxury units offer the perfect touch with restroom attendants who can help adjust lines, keep the units clean, and communicate any immediate needs throughout the rental's life span. We also offer prompt cleanup services after the event is over so you can tend to your guests while the rentals return back to normal.
For more information about our luxury portable restroom rentals and shower trailers in Hawaii, please contact us today. We look forward to helping you create an enjoyable and memorable experience for your guests. With The Lavatory on your side, you can trust that you'll have the perfect portable restroom and shower solutions for any event. Our luxury restroom trailers are designed to provide maximum convenience and comfort in an aesthetically pleasing setting, allowing your guests to make the most of their time. And with our dedicated team of professionals on hand to ensure everything runs smoothly, you can rest assured that your event will be a success. Let The Lavatory help make your next event an unforgettable one!
The Lavatory Luxury Trailers
Luxury Portable Restrooms
THE LAVATORY
Luxury Restroom Trailers
We offer 2, 5, and 9 station portable luxury restroom trailers:
Equipped with AC/Heating
White China Toilets with Foot Flush
Stainless Steel Sinks
Interior & Exterior LED Lighting
Smart Touch Digital Thermostat
Private Shower Trailers
We offer 2 and 8 station portable private shower trailers:
Private Bathroom/Shower Stalls
Equipped with AC/Heating
White China Toilets with Foot Flush
Interior & Exterior LED Lighting
Hot/Cold Water Controls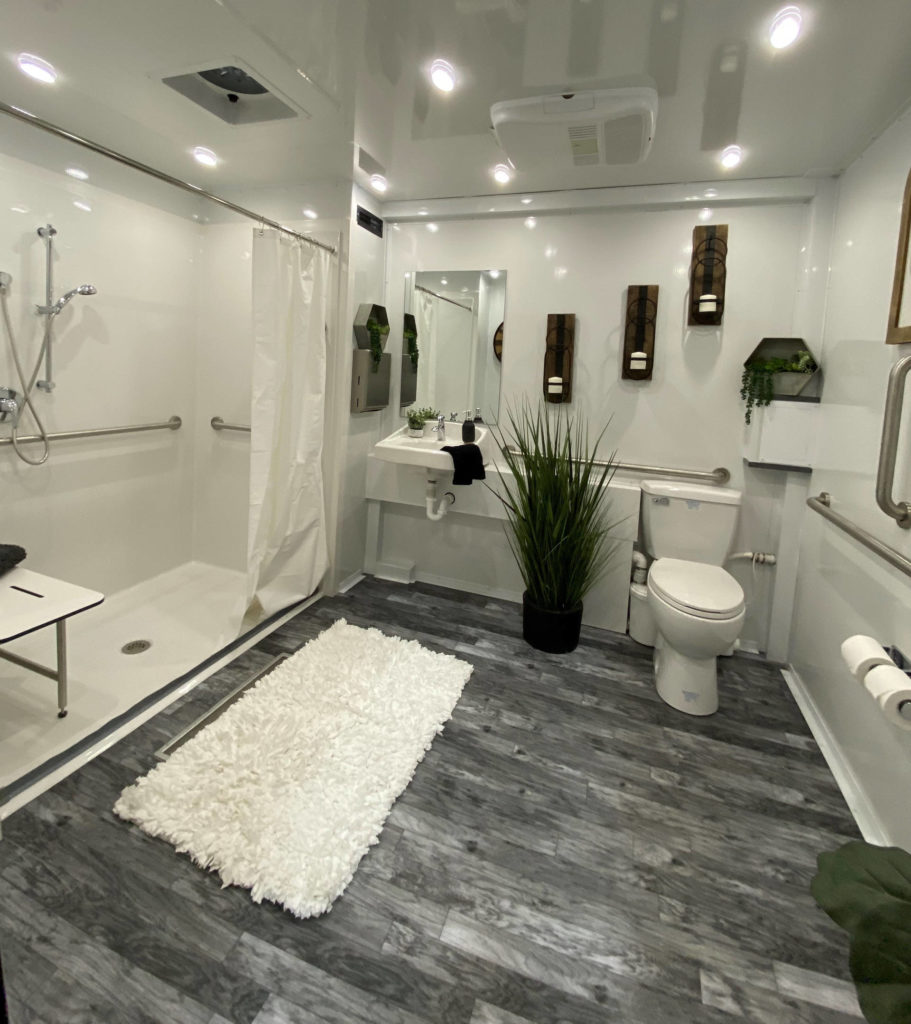 ADA Restroom & Shower Trailers
We offer many restroom and shower options for California ADA Accessibility trailer needs:
Designed to be lowered with ramps for ADA Accessibility
ADA China Toilets with Handle Bars
ADA Shower with Seat & Wand
ADA Sink