Large Private Shower Trailers

ADA Restroom and Shower Trailers

Temporary Bathroom and Long Term Restroom Rentals

Outdoor Shower and Bathroom Trailers

Special Event Luxury Restrooms

Luxury Portable Restroom Trailers
Luxury Restroom Trailers
Serving the San Francisco, Oakland, San Jose, and Bay Area of California
At The Lavatory, we believe that everyone deserves access to clean and comfortable bathroom facilities, no matter where they are. That's why we offer a wide range of portable bathroom trailers and luxury restroom rentals to meet the needs of any event or location. Whether you're hosting a special occasion like a wedding or bar mitzvah, or you need a long-term solution for a school site, warehouse, or managed homeless encampment, we have the perfect options for you.
Our luxurious restroom trailers come equipped with all the amenities you would expect from home, including private mobile showers, ADA-compliant units, and even laundry trailers. These VIP temporary restroom rentals are perfect for special events where a regular porta potty just won't cut it. They provide a level of sophistication and convenience that will make your guests feel right at home. And for longer-term needs, we have trailer options available for rent in the San Francisco, Fremont, Oakland, San Jose, Napa, and San Jose/Bay Area regions.
At The Lavatory, we understand that cleanliness and convenience are top priorities when it comes to bathroom facilities. That's why we go above and beyond to ensure that our restroom units are well-maintained and fully stocked with all the necessary supplies. We also offer flexible rental options to meet the specific needs of your event or location. Whether you need a unit for a few hours or a few months, we have a solution that will work for you.
So if you're in need of high-quality, luxury portable bathroom facilities, look no further than The Lavatory. With our wide selection of options, flexible rental terms, and commitment to customer satisfaction, we are the premier choice for all your bathroom needs. Contact us today to learn more about how we can help make your event or location a comfortable and convenient place for everyone.
The Lavatory Luxury Trailers
Luxury Portable Restrooms
THE LAVATORY
Luxury Restroom Trailers
We offer 2, 5, and 9 station portable luxury restroom trailers:
Equipped with AC/Heating
White China Toilets with Foot Flush
Stainless Steel Sinks
Interior & Exterior LED Lighting
Smart Touch Digital Thermostat
Private Shower Trailers
We offer 2 and 8 station portable private shower trailers:
Private Bathroom/Shower Stalls
Equipped with AC/Heating
White China Toilets with Foot Flush
Interior & Exterior LED Lighting
Hot/Cold Water Controls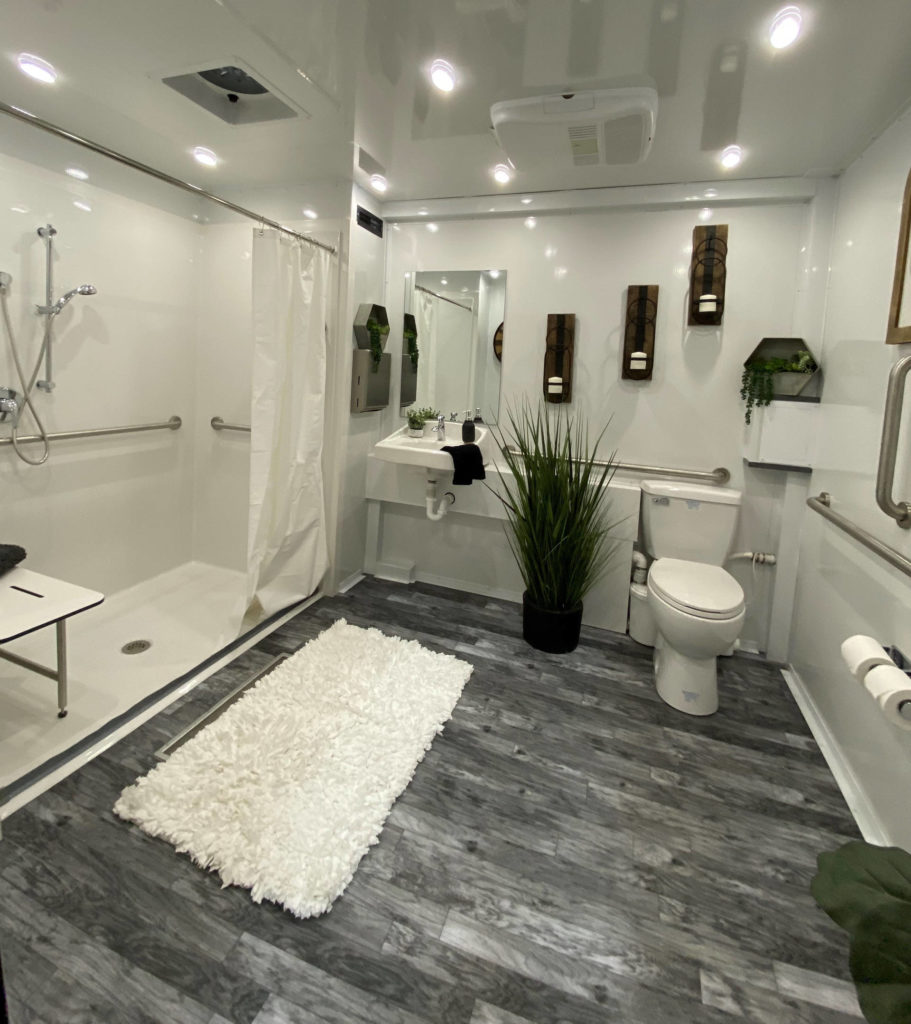 ADA Restroom & Shower Trailers
We offer many restroom and shower options for California ADA Accessibility trailer needs:
Designed to be lowered with ramps for ADA Accessibility
ADA China Toilets with Handle Bars
ADA Shower with Seat & Wand
ADA Sink