Large Private Shower Trailers

ADA Restroom and Shower Trailers

Temporary Bathroom and Long Term Restroom Rentals

Outdoor Shower and Bathroom Trailers

Special Event Luxury Restrooms

Luxury Portable Restroom Trailers
Luxury Bathroom Trailers
Serving Sacramento, Santa Rosa, Stockton, and all of Northern California
The Lavatory is the premier destination for luxury portable restroom rentals and temporary mobile shower trailers in Northern California. Our extensive selection includes options for special events, fundraisers, weddings, summer camps, corporate events, festivals, and more. Our trailers are equipped with all the amenities you would expect from home, ensuring that your guests feel comfortable, clean, and safe. In addition to our temporary rentals, we also offer long-term options for school sites, warehouses, emergency response, remote camps, managed homeless encampments, and other situations where permanent facilities may not be practical. Our trailers are stationed in Fresno/Clovis, Sacramento, and the San Jose/Bay Area, and we can reach any location in California.
We have been offering premier restroom solutions for over 30 years. With our expansive industry experience and expert specialists, we'll always meet your needs. We understand how important it is to have clean, properly sanitized, and fully functioning luxury bathroom trailers. We carefully constructed all our trailers to feature modern, comfortable features, ensuring each user feels welcome and safe with enough privacy to complete their business. We offer our units on a short- or long-term basis; just let our team know your attendance needs and timeframes, and we will work diligently to ensure your demands are met with well-maintained luxury mobile restroom trailers.
Are you unsure about final attendance rates? That's okay. We believe it's better to play it safe than to be sorry, so our expert customer care team can work with your event or location hosting team to gain an understanding of who your ideal target user is. Once we understand who you're serving, we can guide you to the most suitable rental accommodations—including if you need an ADA-compliant luxury portable restroom rental. Meeting the needs of all users is a vital aspect of planning or hosting. Our ADA-compliant units feature all the same functioning amenities as a standard restroom trailer, with the addition of wider doors, secure grab bars, and adequate spatial capacity for a full range of motion. These units also sit flush with the ground to eliminate trip hazards upon entry or exit.
Why Work With The Lavatory?
The Lavatory is a reputable bathroom shower trailer rental service provider with restrooms, showers, and laundry units available for all applications. We know that life gets messy, and our solutions find a way to keep everyone comfortable and happy. Is your apartment complex's laundry room down? We can serve you. Are you preparing a disaster-relief site? We'll gladly lend a hand. Are you experiencing an emergency? Our team is ready to assist. Our luxury bathroom trailers fill in the gaps and settle the unknown for property owners, event planners, families, communities, outreach programs, outdoor spaces, indoor spaces, and so much more.
Partner with The Lavatory today to get started on your custom quote for your luxury portable restroom rentals. We look forward to serving your space and community.
The Lavatory Luxury Trailers
Luxury Portable Restrooms
THE LAVATORY
Luxury Restroom Trailers
We offer 2, 5, and 9 station portable luxury restroom trailers:
Equipped with AC/Heating
White China Toilets with Foot Flush
Stainless Steel Sinks
Interior & Exterior LED Lighting
Smart Touch Digital Thermostat
Private Shower Trailers
We offer 2 and 8 station portable private shower trailers:
Private Bathroom/Shower Stalls
Equipped with AC/Heating
White China Toilets with Foot Flush
Interior & Exterior LED Lighting
Hot/Cold Water Controls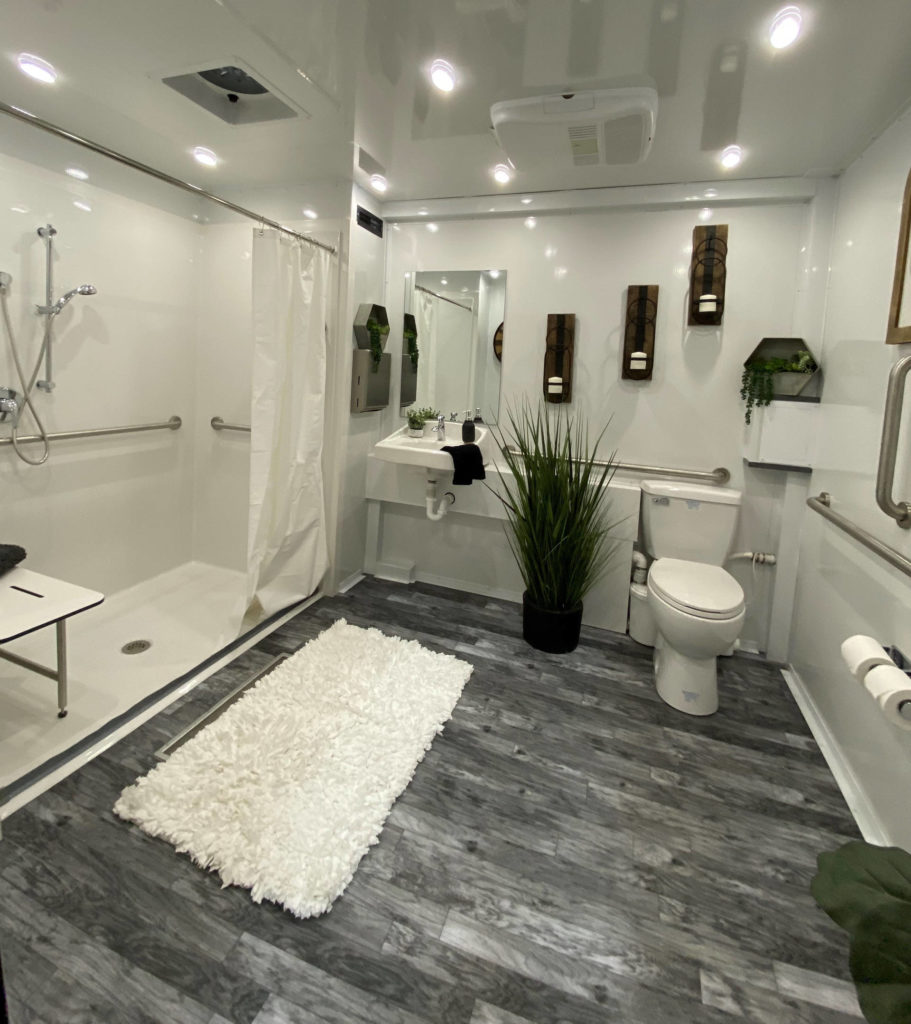 ADA Restroom & Shower Trailers
We offer many restroom and shower options for California ADA Accessibility trailer needs:
Designed to be lowered with ramps for ADA Accessibility
ADA China Toilets with Handle Bars
ADA Shower with Seat & Wand
ADA Sink