Large Private Shower Trailers

ADA Restroom and Shower Trailers

Temporary Bathroom and Long Term Restroom Rentals

Outdoor Shower and Bathroom Trailers

Special Event Luxury Restrooms

Luxury Portable Restroom Trailers
Luxury Restroom Trailers
Serving Los Angeles, Long Beach, and San Diego Areas
The Lavatory is a leading provider of luxury portable restroom and bathroom trailers in Southern California, including major cities like Los Angeles, San Diego, and San Bernardino. We offer a wide range of options that include all the amenities you would expect from home, making our trailers perfect for special events, fundraisers, galas, weddings, festival events, and other special occasions where traditional portable toilets are not suitable.
Our luxury portable restroom trailers are available in a variety of sizes, with options that include private and ADA-compliant mobile showers, as well as laundry trailers. We also offer long-term options that are ideal for school sites, warehouses, oil fields, emergency response, managed homeless encampments, and other situations where permanent facilities are not practical.
Our trailers are stationed in Los Angeles, ready for your rental needs. Our team of experts will work with you to ensure that your trailer is set up and ready to go before your event starts and will be available throughout the event to answer any questions and address any concerns.
We understand the importance of cleanliness and hygiene, that is why all our trailers are thoroughly cleaned and sanitized after each use. We also offer additional services such as on-site attendants, and 24/7 customer support.
If you're looking for a luxury portable restroom or bathroom trailer in Southern California, contact us today for more information or to request a quote. We are dedicated to providing the best possible service for your event.
The Lavatory Luxury Trailers
Luxury Portable Restrooms
THE LAVATORY
Luxury Restroom Trailers
We offer 2, 5, and 9 station portable luxury restroom trailers:
Equipped with AC/Heating
White China Toilets with Foot Flush
Stainless Steel Sinks
Interior & Exterior LED Lighting
Smart Touch Digital Thermostat
Private Shower Trailers
We offer 2 and 8 station portable private shower trailers:
Private Bathroom/Shower Stalls
Equipped with AC/Heating
White China Toilets with Foot Flush
Interior & Exterior LED Lighting
Hot/Cold Water Controls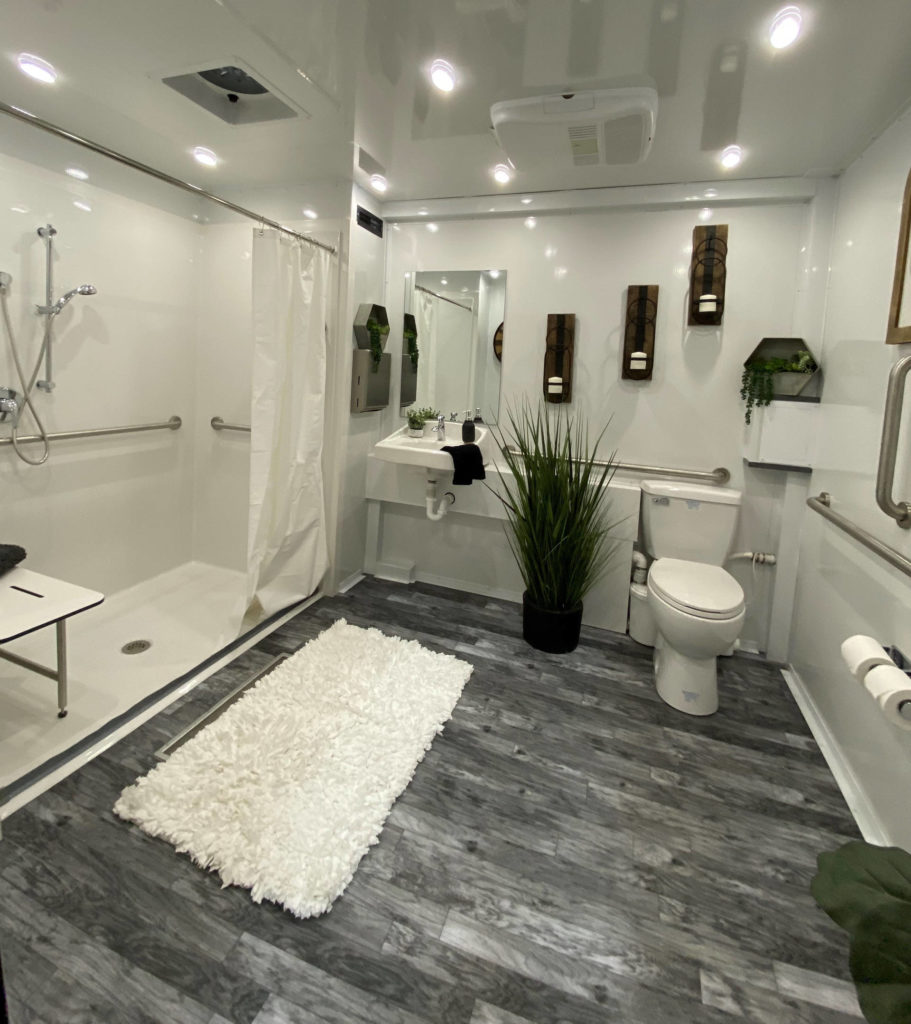 ADA Restroom & Shower Trailers
We offer many restroom and shower options for California ADA Accessibility trailer needs:
Designed to be lowered with ramps for ADA Accessibility
ADA China Toilets with Handle Bars
ADA Shower with Seat & Wand
ADA Sink