Large Private Shower Trailers

ADA Restroom and Shower Trailers

Temporary Bathroom and Long Term Restroom Rentals

Outdoor Shower and Bathroom Trailers

Special Event Luxury Restrooms

Luxury Portable Restroom Trailers
Luxury Restroom Trailers
Serving Salt Lake, Provo, Park City, St. George and all of Utah.
If you're in Utah and in need of luxury bathroom trailers for a special event, look no further than Lavatory. We offer the largest selection of temporary, portable restrooms and showers in the state, making us the premier destination for all your portable bathroom needs. Whether you're hosting a wedding, summer camp, corporate event, festival, or any other special occasion, our fancy restroom trailers are sure to impress. And if you're in need of a long-term solution, we have options for that too. Our trailers are perfect for school sites, commercial warehouses, emergency response, mines, remote camps, managed homeless encampments, and more.
Located in Salt Lake City and St. George, we're well-equipped to serve the entire state of Utah. So if you're in Park City, or anywhere else in the state, give us a call. We'll bring our luxury bathroom trailers to you, ensuring that you and your guests have access to clean, comfortable facilities. Our trailers are also ADA-compliant, making them accessible for everyone.
In addition to our bathroom trailers, we also offer laundry trailers for those in need of a place to wash and dry their clothes. These trailers are perfect for special events, ski resorts, fundraisers, remodels, and more. With Lavatory, you can count on top-notch service and a wide range of options to suit your specific needs.
So whether you're in need of a temporary, portable bathroom solution for a special event or a long-term option for a school site or other facility, Lavatory has you covered. Contact us today to learn more about our luxury bathroom trailer rentals and to request a quote. We look forward to serving you and making your event a success.
The Lavatory Luxury Trailers
Luxury Portable Restrooms
THE LAVATORY
Luxury Restroom Trailers
We offer 2, 5, and 9 station portable luxury restroom trailers:
Equipped with AC/Heating
White China Toilets with Foot Flush
Stainless Steel Sinks
Interior & Exterior LED Lighting
Smart Touch Digital Thermostat
Private Shower Trailers
We offer 2 and 8 station portable private shower trailers:
Private Bathroom/Shower Stalls
Equipped with AC/Heating
White China Toilets with Foot Flush
Interior & Exterior LED Lighting
Hot/Cold Water Controls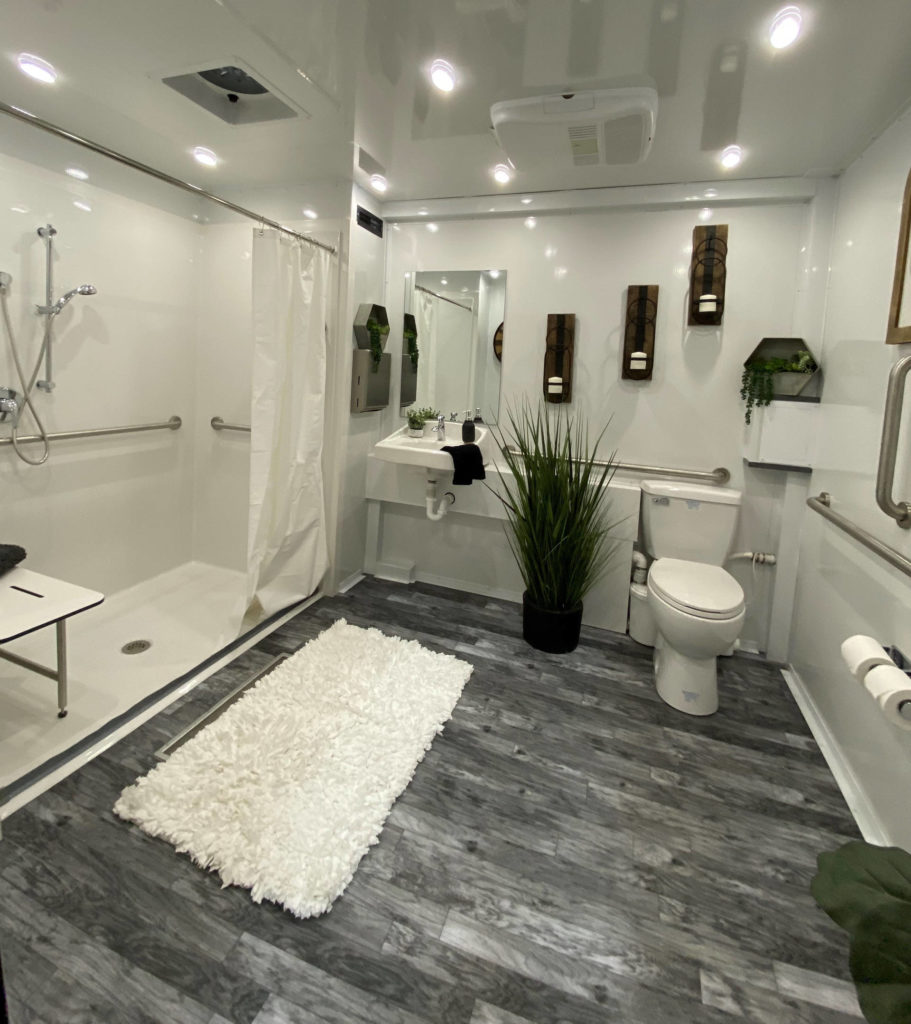 ADA Restroom & Shower Trailers
We offer many restroom and shower options for California ADA Accessibility trailer needs:
Designed to be lowered with ramps for ADA Accessibility
ADA China Toilets with Handle Bars
ADA Shower with Seat & Wand
ADA Sink